Automatic CENTRIFUGE TMG series
Features:
MAX 4,000 RPM
Improved liquid/solid separation ratio
Dehydrates sludge for less weight & volume when collecting
Improved finer sludge removal ratio
Improves the contaminant removal ratio from the fluid in combination with the oil cleaner
Dehydrates fine sludge collected from fluid for easy handling and disposal of sludge
Easy separates fine particles such as aluminium/stainless steel powder, carbon, lenses, class powder, stone powder, mud, etc.
No consumables such as filter paler and fewer expendable parts for lower repair costs
Halves oil consumption, and stops oil deterioration
Stops putrefaction of water-based fluid (lower coolant fluid costs)
Automatic operation (unattended operation): Repeats filtering, dehydration, collection, and cleaning processes automatically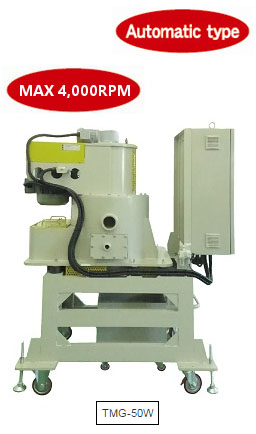 Specifications AUTOMATIC centrifuges
| Product Model | Flow rate(μmin) | RPM/Centrifugal force(rpm/G) | Outer dimensions (excluding mount) | Weight(dry) |
| --- | --- | --- | --- | --- |
| TMG-50W | 20~40 | 4000rpm/3000G | W700xL1200xH1050 | 550g |
| TMG-50 | 20~40 | 3000rpm/1700G | W600xL1050xH1050 | 500g |
| TMG-100 | 40~70 | 3000rpm/1700G | W600xL1100xH1150 | 550g |
| TMG-200 | 70~140 | 2800rpm/1700G | W700xL1200xH1250 | 600g |
| TMG-400 | 140~240 | 2300rpm/1700G | W800xL1450xH1450 | 900g |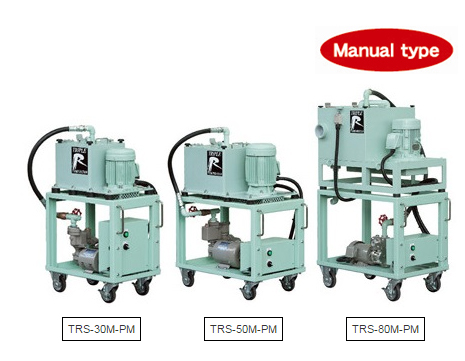 Manual CENTRIFUGE series
Features:
Stabilizes final product quality
Reduces machine repairs, and extends machine life
No filter paper, and so no blockages
Dehydrated sludge is easy to dispose of or recycle
Easy installation
No consumables
Specifications MANUAL centrifuges
Model
Article
Nr.
Max flow rate ℓ/min
Main
motor
200V
RPM50Hz
RPM60Hz
Dimension
mm
WxLxH
Weight
(dry)
kg
TRS-30M-PM
17631
30
0.75 KW
2810
3400
397x712x1010
115
TRS-50M-PM
17651
50
1.5 KW
1881
2265
473x787x1029
160
TRS-80M-PM
17681
80
2.2 KW
1500
1800
685x878x1444
240
Benefits
Separates micron sized particles, such as aluminum/steel dust, carbon, lens and glass dust, stone dust and mud.
Dehydrates and solidifies sludge.
Improves machine reliability and product quality.
Increases production speed and productivity.
Extends useful life of coolants and oil; reduces coolant and oil consumption and prevents deterioration of the fluid. Additives will not be separated.
Important reduction of maintenance costs.
Typical applications
Coolants for metal, glass or ceramic machining or forming.
Surface treatment baths and parts washers, like washing steel plates in metal stamping.
Paint shop water.
Metalworking, metals pretreatment, wire drawing
Important note:
The flow rates mentioned are for water based fluids. In case of oil the max. flow rate will be 50% of the indicated flow.Above mentioned models are our standard models.Contact your local distributor for further information.
Cut operation costs by keeping lubricating oils and hydraulic fluids free of contaminants
Keep the liquid clean in the war of friction
70% of failures in hydraulic equipments is because of contamination