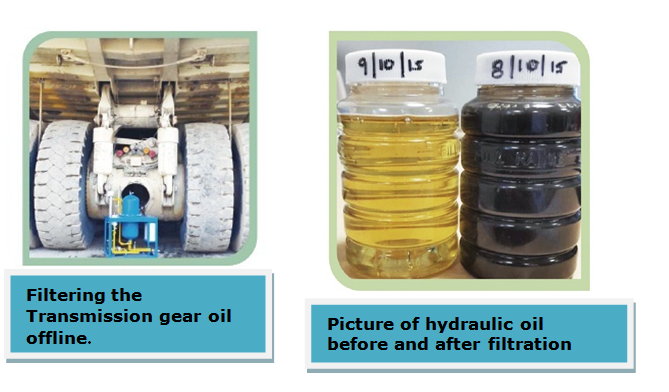 Like all industries, the mining/Construction machinery industry is under increasing pressure to do more with less. Like most open pit mines and earth moving equipment companies, the mobile equipment was identified as one of the largest cost centers in terms of Lubricant consumption.
It is common that these mobile equipment's maintenance consumed @ 70 % of the total maintenance budget which include lube oils such as hydraulic oil and engine oil. Any efforts in reducing the lube oil consumption will lead to a major savings in the total maintenance cost.
Triple R oil filtration systems are designed to keep the hydraulic and engine oil free of contamination and moisture- the two main reasons for an oil to deteriorate and save more than 50 % of the annual new lube oil purchase for these applications.
One of the steps envisaged is a condition based oil change intervals and the other is of using a kidney-loop filtration systems to continuously keep the lube oil free of contamination.
Regular filtration of the equipments transmission fluid, differential oil (gear oil), hydraulic oil  by using a skid mounted filtration system could effectively help keep the oil clean of contamination and this gives an extended drain intervals of the same thus reducing in substantial new oil purchases.
Triple R products
Case studies
World Wide References
OEM manufacturers: Komatsu, Kato, Kubota, Hitachi, Konecranes, Huddig, Svetruck, Junntan, Gremo
Van Werven
Spierings Kranen
South African diamant mine machinery
Cut operation costs by keeping lubricating oils and hydraulic fluids free of contaminants
Keep the liquid clean in the war of friction
70% of failures in hydraulic equipments is because of contamination